Global Leaders present at ASIS Victoria Breakfast

On Thurs 6 December 2018 ASIS members and guests were provided an insight into ASIS International by ASIS International CEO Peter J. O'Neil and Secretary Malcolm C. Smith CPP.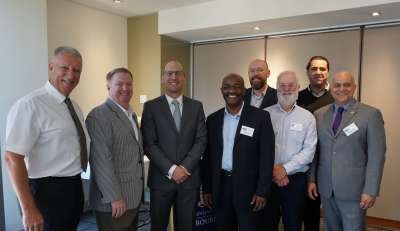 Peter spoke about ASIS International's vision and how participation in the society can enhance and grow the security profession globally. Peter also explained the importance of volunteer leaders and how ASIS Certification and Education can assist security professionals in their career.
Malcolm spoke about his journey within the security profession, from early days in South Africa and how ASIS Certification and networking with ASIS International has greatly advanced his career to a professional level.
The breakfast concluded with a networking opportunity before ASIS Volunteer Leaders spent valuable time with Peter and Malcolm.
We would like to thank Peter and Malcolm for making the journey to Australia. Their information and support for the Chapter is most appreciated.