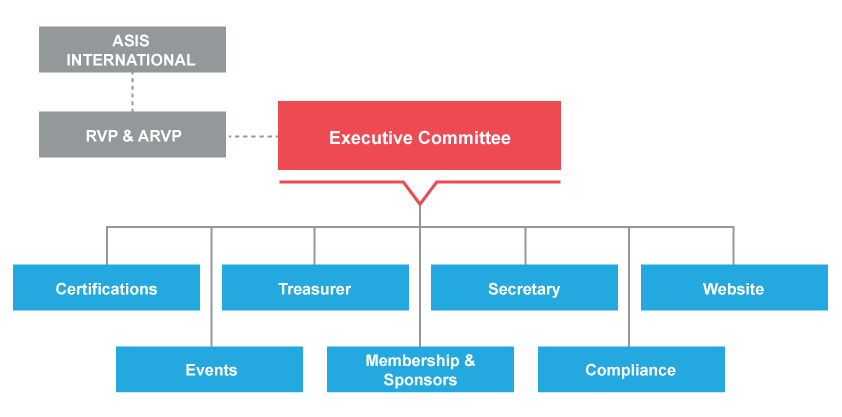 Our structure, as displayed on this page, shows the various roles performed by your Executive Committee, all voluntary members. The Executive Committee is united by a commitment to the security profession. This commitment gives us a unique ability to offer the Victorian membership appropriate support across our industry.
Our team on the ground in Victoria maintain strong local, regional, national and international ties, supporting our members and ensuring the success of our industry.

Chris Zammit
Chair
Chris has 14 years experience in the public safety realm, with ten years' service at Victoria Police, primarily within investigations and critical incident response. He transitioned into the private sector leading national emergency planning and response, protective security of staff and assets at the AFL, before moving into consultancy in 2020.

Sarina Persall
Deputy Chair
Sarina Persall is currently the Head of Business Resilience for Crown resorts. Having recently pivoted from a traditional protective security career of 29 years within the private sector her experience covers a broad range of industries, specialising in operational risk, developing and management of security plans at greenfield sites within the entertainment industry, close personal protection, and leading large operations at places of mass gatherings.
She enjoys developing and mentoring security personnel who present with a strong work ethic, demonstrate environmental and self-awareness, high level communication skills. Sarina has a particular interest in creating pathways into security for women and supporting their development within the industry. She gets a great deal of fulfilment from designing, risk assessing, developing and implementing security strategies in environments that are complex and dynamic in nature.

Sabrina Hurley
Secretary
Sabrina has over 10 years experience in the security, risk management, and emergency management environment – ranging from Stadiums, and Major Events, Critical Infrastructure, and currently within the Public Transport sector.
Working with Yarra Trams, she is currently leading the establishment of a new security initiative to improve the staff and customer safety and security of those on the network.
Sabrina is incredibly passionate about making positive and innovative change to the security posture and landscape and seeks to generate an overall cultural improvement for those within the industry.

Laval Yu
Treasurer
Laval is a Security Consultant with a background in electrical engineering, with over 7 years' experience within the industry as a systems integrator and security consultant.
Throughout his career, Laval has worked on several projects within Australia across a range of sectors. He designed and delivered a variety of smart and secure premises in different sectors such as commercial, industrial, educational, and transport locally. He also provided advice and site assessment, was involved in project management and the development of customer specific security standards documentation.
Laval is driven by his passion about technology and delivering smart, secure and safe environment bringing value to his clients.
Laval joins the ASIS committee driven by his desire to contribute to the security industry.

Dr. Tony Zalewski
General Committee
Dr Tony Zalewski has been involved in public safety for over 40 years including 17 years as an operational Victoria Police officer. He has four degrees from Australian universities including law, criminology and the social sciences. Tony works with Governments, regulators and various organisations across most industry sectors in Australia and overseas. As a judicially recognised expert in security, safety and risk he has provided expert reports/evidence in over 500 cases including some of Australia's larger personal injury cases.
Tony brings a rare blend of practical real-world experience and high-end theoretical knowledge that has resulted in him being a highly sought-after expert. He is a former Chair of the Chapter and is the current Chair of VSIAC, having been appointed by the Minister of Police in 2022

Nick Karas
General Committee
For over 20 years Nick has been Managing Director of his own security firm, Dominance Guardian Services. He has experience across areas of business operations, human resources, client acquisition and management in addition to the development of formalised systems across the operation.
Nick has formal tertiary and vocational qualifications in the social sciences, security and business operations.

Pascal Engler
General Committee
Pascal has been working in the security industry for over 20 years, he is currently working as a Security Consultant specialising predominantly in areas of security risk and development of technical and non-technical security design; and review and development of guard force operations.
After serving as Chapter Chair 2017 to 2019, Pascal continues to take an active role with the Chapter as Membership Coordinator, he also is highly involved with numerous ASIS Subject Matter Expert Communities.
Pascal holds a Diploma in Security and Risk Management and is Board Certified in ISO31000.
Andrew Bugeja
General Committee (Webmaster)
Andrew has more than 13 years of experience in the security industry. He specialises in electronic security design, maintenance and capital works. While working for industry leading electronic security providers, Andrew has worked within a variety of sectors delivering innovative solutions to government, commercial and retail clients.
Andrew holds a Diploma in Business as well as trade qualifications in electronic security.
Ben Connley-Walker
General Committee (Events)
Ben represents the second generation of security consultants at Connley Walker. After completing his Bachelor of Science (Security), Ben is inspired to contribute to the security industry by introducing innovative ideas and sharing his knowledge with others. In addition to specialising in electronic security design and risk management, Ben is undertaking his Masters of Cybersecurity.

Dusan Losic CPP PSP
General Committee
Dusan Losic is an experienced security consultant and in his role at GHD he routinely advises on security, risk and technology for a range of private and public sector clients, as well as major projects and critical national infrastructure.
He holds qualifications in engineering, security & risk management, aviation security, and also the ASIS International CPP and PSP certifications.
Dusan is excited be part of ASIS International in Australia and our commitment to supporting the next generation of security professionals in the industry.