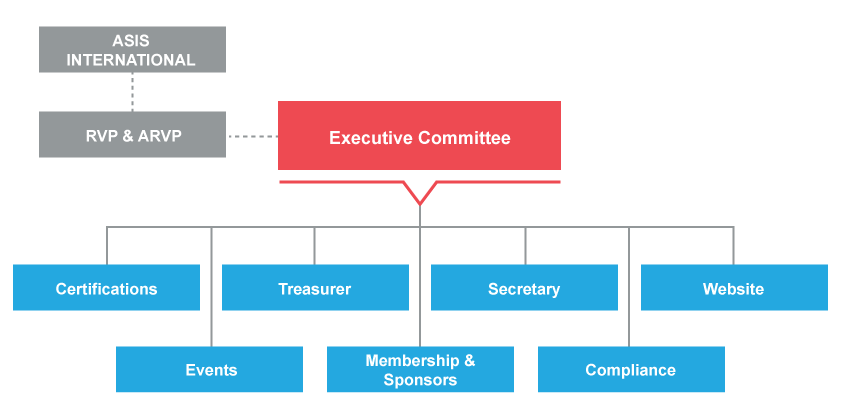 Our structure, as displayed on this page, shows the various roles performed by your Executive Committee, all voluntary members. The Executive Committee is united by a commitment to the security profession. This commitment gives us a unique ability to offer the Victorian membership appropriate support across our industry.
Our team on the ground in Victoria maintain strong local, regional, national and international ties, supporting our members and ensuring the success of our industry.

Pascal Engler
Chapter Chair and Program (Events) Coordinator
Pascal has diverse experience in implementing holistic risk management strategies and risk reduction measures to ensure security integrity is maintained to reduce risks and limit exposure to liability in areas of physical and personal risk.
Pascal has a detailed understanding of modern security practices and technologies, global standards and industry best practice. He also is qualified Trainer and Assessor – Specialising in Security Risk Management.
Pascal was awarded the 2014 Dan Grove Regional Scholarship by ASIS International and is active in supporting its members.
Inspiring to make a difference in the Private Security Industry, Pascal is an active member with ASIS International Crime Prevention and Loss Prevention Council and a current member of VSIAC (Victorian Security Industry Advisory Council).

Dr Tony Zalewski
Deputy Chair
Dr Tony Zalewski has an extensive career in security and public safety including 17 years with Victoria Police. He has four degrees from Australian Universities in disciplines of law, criminology and the social sciences. Tony also has a number of vocational training qualifications such as security risk management, workplace safety, aggression management and is a qualified trainer in Australia and overseas.
In 1990 Tony founded the multi award-winning Australian Institute of Public Safety and over 17 years built it to offer 30 training and 8 higher education accredited qualifications.
The Institute was acquired in 2008 and today Tony continues to consult as a security expert across industry sectors, for governments and the courts. Tony has provided advice and expert reports in some of Australia's largest public liability civil actions involving security and safety and is sought after for his intimate knowledge of effective security and safety systems.

Rachell DeLuca
Secretary and Young Professionals Coordinator
Rachell has worked in the security industry since 1998, starting her career in alarm monitoring, slowly working through different areas in electronic security and risk strategy, to consulting where she is now a Senior Security Consultant with Arup. Her hands on work experience has been supplemented through formal education in security, risk and counter terrorism.
In addition to publishing regularly on matters relating to security, Rachell has worked with numerous, high profile clients including financial institutions, correctional facilities, airports and transportation. More recently she has project managed a state of the art, safe city project in Pakistan, involving more than 8 thousand CCTV cameras and supporting infrastructure.

Eddy Sorokowski CPP
Treasurer
Eddy has over 35 years of experience in the Security & Risk Management Sector including Senior Management Roles, Defence and Government Security, Telstra Corporate Security and Note Printing Australia.
Currently he is Director of Security Management Professionals Pty Ltd and provides security and risk management services throughout Australia.
Eddy is a former Chair of the Victoria Australia Chapter. He holds a CPP qualification and is a leader within the security profession.

John Frost
Assistant RVP
John has over 35 years experience in the security environment, having worked in the public sector followed by a stint at the ANZ Bank as Group Security Manager. He is currently Physical Security Program Manager within the Group Resilience and Security Team of Telstra's Chief Risk Office, with particular responsibility for property security frameworks and the protection of critical infrastructure.
John has been a member of ASIS International since 1993 and has several roles at committee level within the Victoria Australia Chapter, including Secretary and Chairman and currently as Assistant Regional Vice President. He has also spent some years on the professional certification sub-committee and achieved CPP, PSP and PCI certifications.

Clayton Abraham
Executive Committee - Mentoring Coordinator
Clayton has over 30 years experience in the security industry as a trainer, adviser and security leader. He specialises in security risk management, security training and executive protection. In addition to leading his own organisation, Clayton is an adviser to public and private organisations on risk minimisation and operational security services in Australia and abroad.
Clayton has qualifications in Security and Risk Management and Training and Assessment.
Narelle Thompson
Executive Committee - Women in Security Coordinator
Narelle has over 26 years of experience in the Security & Property Sector including senior roles with General Motors, Probe, Tempo, Group 4, ADT Security, GPT, Coles and JLL. Currently an Associate Director with JLL, Narelle is Account Head of Engineering & Operations Solutions for a number of JLL major clients.
Narelle has completed a Bachelor of Science (Security) and Diploma in Security Management. She obtained a CPP qualification is 2005 and is an accredited Security Advisor.
Stuart Ballantyne
Executive Committee
Experience totalling over 42 years in the security industry commencing as an installation technician at Baker Security, Richmond around 1974. Over the years, I have held positions as State Manager, service manager for security providers and integrators along with other business development and technical support roles within the security industry.
During my career, I gained extensive experience in building construction projects, client liaison, co-ordination and implementation of major security, surveillance and communications projects across Australia.
Successfully completed the CPP in 2008 and have been a member of ASIS international since 2007 along with being a corporate and ASIAL member since 2009 with individual membership for well over 20 years. Currently working within my own company as a consultant.
Nick Karas
Executive Committee
For over 20 years Nick has been Managing Director of his own security firm, Dominance Guardian Services. He has experience across areas of business operations, human resources, client acquisition and management in addition to the development of formalised systems across the operation.
Nick has formal tertiary and vocational qualifications in the social sciences, security and business operations.