Understanding Terrorism and Violent Extremism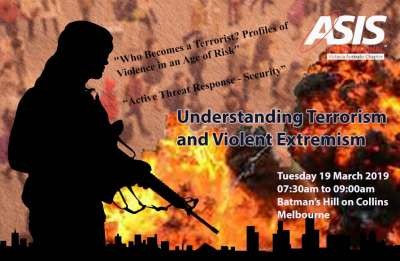 Two leaders in security (Dr David Wright-Neville and Gregory Metzger) will enlighten us with their knowledge on how terrorism is and should be addressed from theoretical and practical perspectives.
"Who Becomes a Terrorist? Profiles of Violence in an Age of Risk".
"Although terrorism has always been a feature of society, in recent years the personal profiles of those individuals who become terrorists has undergone a significant shift. In this presentation Dr David Wright-Neville will explore the changing character of terrorism in the twenty first century, who becomes a terrorist, why they become terrorists, and how these shifts are reflected in the growing preference among terrorist organisations for social media as their principal mode of recruitment."
"Active Threat Response – Security 101"
Security companies and individuals operating in the security space must have the ability to cope with the unique challenges and demands associated with responding and managing to an Active Threat. Building occupants and the greater public turn to security in the event of an emergency, with an expectation that security providers understand and recognise the threat and are immediately able to respond appropriately, saving life and reducing the cost in recovery.
Security providers must know:
Best practice in response to Active Threats
Procedures to increase occupant safety
Consideration for and ability to execute a building Lock Down
Evacuation options and areas of cover and concealment
In today's environment, at a minimum, security providers should understand Australia's Strategy in Protecting Crowded Places from Terrorism and how the strategy and the National Threat Level and Advisory System are relevant to their role and responsibilities. New security officers, as well as experienced officers need the appropriate training and guidance in this environment to ensure an overall understanding and an ability to apply this knowledge, specific to any given site. We must be proactive; the cost of the alternative is far too great.
Gregory Metzger, National Threat and Risk Manager at First 5 Minutes has over 25 years' experience in counter terrorism, law enforcement and security both locally and internationally. Gain insights from Gregory's vast experience and discover how to adapt your Security Emergency Preparedness training to meet the needs of today's threat environment.