ASIS Victoria Webinar Event - 23 September 2021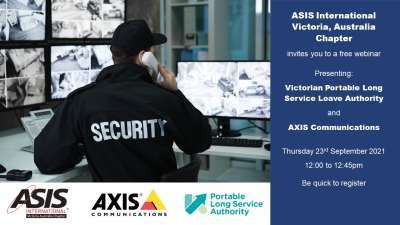 Come and join us for our September 2021 online webinar event.
The Victoria Chapter committee would be delighted to see our members and guests for our online webinar event this 23rd September.
Join us to learn the latest chapter news and updates from our President Rachell Deluca and to welcome of our new members.
Hear from Joseph Yeung, the CEO of the Portable Long Service Leave Authority, about Victoria's Portable Long Service Benefits Scheme, benefits and the Authority.
The second part of the event will be a presentation on Camera Analytics by Johnny Lee from Axis Communications.
RSVP to this Event using the link here or use the QR code in the flyer to secure your place as soon as possible. The link to the webinar will be sent to you via email after you have sign up to attend.